Duraflex® Quad Release System & Triggers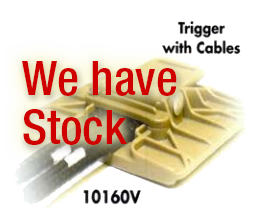 Duraflex's new fully integrated, competitively priced quick release and Quad Release System is a major improvement to the systems now being used on tactical vests. Each buckle works as a standard side release buckle and offers simple size adjustment. Release each buckle individually or all 4-buckles simultaneously, the buckle/fixed cable assembly offers flexibility for various design requirements. Each component is designed to be field reparable with incomparable ease of assembly.
Release System Triggers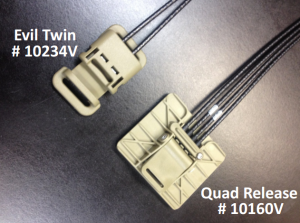 National Molding offers two different cable release triggers which share a host of 1 1/2" and 1" buckles. The first is the Quad Release which simultaneously releases four buckles. This system is currently being used on the US Army's IOTV Gen III program and their soon to be released Female IOTV. The second Trigger is the Evil Twin which release two buckles. This is perfectly suited for plate carriers and chest rigs. Both of these triggers offer instantaneous removal of the carrier systems in the event of a medical emergency or water immersion. The simplicity of these systems allows for very easy assembly of the carrier, reducing required training time.